All projects
Marina Walktrail 2021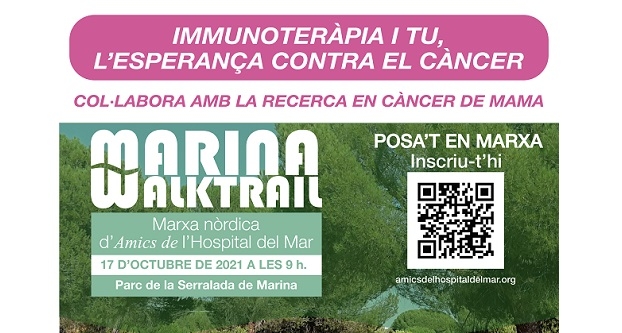 7th edition of the nordic walk, solidarity activity in favor of research in Immunotherapy and breast cancer.
I want to collaborate
Marina Walktrail 2021
In order to raise awareness and raise funds to contribute to the fight against breast cancer, Amics de l'Hospital del Mar Foundation is organizing the 7th edition of the nordic walk, the Marina Walktrail 2021, and we do it hand in hand of the Parc de Salut Mar, with the participation of the Center Dr. Emili Mira and in collaboration with the program La Mar de Saludable of the PSMAR.
This 7th edition is celebrated by returning to the face-to-face format with two routes for different levels (5k and 10k) in contact with nature.
There will be group outings and time periods in order to respect the COVID19 measures.
It will be on Sunday 17 October 2021 in the Serralada de Marina (departure and arrival from the Torribera site, metro L9N, free parking).
Participate in the Marina Walktrail 2021, by clicking HERE.
Online registration until Friday, October 15 at 12:00.
See routes of 5k (gradient +50) and 10k (gradient +250).
If you cannot come and want to contribute to research in immunotherapy and breast cancer, you can make your donation by clicking on "I WANT TO COLLABORATE".
Supported by: