All projects
Immunotherapy and you, the hope against cancer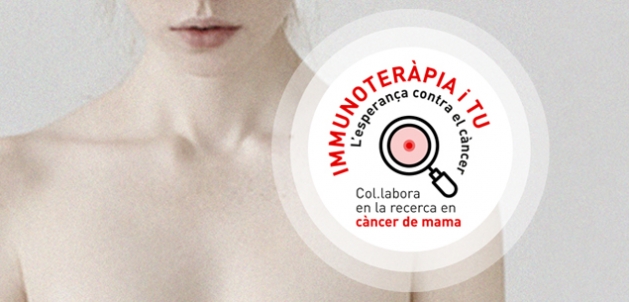 Immunotherapy, the use of the patient's immune system to attack tumor cells, is an excellent bet that Hospital del Mar has made to find new treatments for breast cancer.
I want to collaborate
Immunotherapy and you, the hope against breast cancer
Although the role of our defenses against cancer has been known since the late 19th century, it has been in the last five years that immunotherapy has established itself as the new great hope against cancer.
In 2020, more than 34,000 cases of breast cancer were diagnosed in Spain (34% of cases of cancer in women).
Immunotherapy is a type of treatment that takes advantage of the potential of the patient's immune system to fight their own disease. Current knowledge in biology and genetics, as well as new technologies in research, open the possibility of programming this defense system to act against those cells that develop abnormally, as in breast cancer.
Immunotherapy is becoming a revolutionary treatment as it has fewer side effects and is showing effectiveness where other therapies have failed.
Immunotherapy has made it possible for the survival rate to increase year after year. The most important advance is that immunotherapy is working in some types of cancer, but we need more research to be able to expand the number of patients who can benefit, such as women with breast cancer.

How can you collaborate?
Participates in the 7th edition of the Nordic March, the Marina Walktrail 2021.

Discover the short film "Wash me". A short film about cancer and sexuality, directed by Rebecca Stewart, a patient at Hospital del Mar and made in collaboration with producer Erika Lust Films.

Make a donation. Your help, no matter how small, is very valuable. With your contribution, you help us to continue researching to find the specific formula for the cure of patients with breast cancer with immunotherapy.
The Institute Hospital del Mar de Investigaciones Médicas (IMIM) for the accumulated experience is considered a national and international reference center in immunotherapy, as evidenced by its participation in outstanding scientific publications. At present, Hospital del Mar and IMIM are leading research and immunological treatments applied to lung tumors and melanomas in Catalonia and Spain.
Get to know the research carried out by the Hospital del MAR-IMIM.